Bangkok
Bangkok is probably the best place on earth to meet gorgeous sexy ladyboys. We have compiled this list of places that we know of to find them! If you are aware of any updates and changes that should be included then email [email protected] and we'll add your contributions to help keep the Thai Where Page current.
NANA AREA
Nana is an area of Bangkok near Sukhumvit Road and Soi 4 (Also known as Soi Nana). In this area is Bangkok's largest Red Light area and tourist mecca. This area is loaded with bars, hotels, restaurants and action in general. The area is loaded with massage parlours and other adult related businesses. You will also find freelance ladyboys and ladies hanging around everywhere.

Nana Plaza is the main attraction in Nana and the center of the Ladyboy universe being a three level plaza containing 8 or more ladyboy bars at any given time. The opening hours of the plaza are generally from 7 PM till around 3 in the morning but it varies nightly and there doesn't seem to be a well enforced procedure for bar closing. After the bars have closed many of the ladyboys spill out into the streets where you can save yourself a bar fine and also head to still open discos and clubs nearby.

The bars in Nana Plaza are expensive but not by western standards, although prices have been steadily going up. Bar fines are a high 800 baht, but all in it is usually a fun time. Some of the bars are also crushingly noisy. Sometimes the ladyboys and the wait staff can be overly aggressive. It can be overwhelming for new visitors. But stick with it because it's ultimately fun and there is nothing like it once you are experienced. Below are some information of each of the bars available at publication.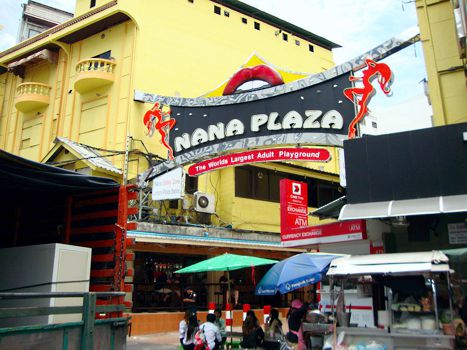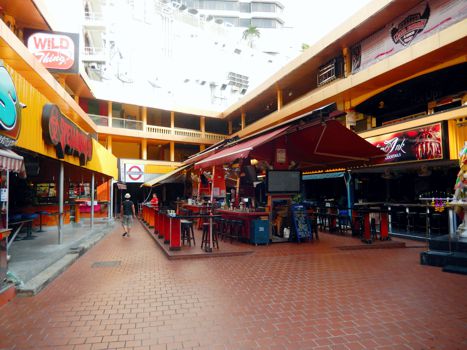 Casanova Bar

Second floor in Nana Plaza, on the left hand side towards the rear. Small ladyboy bar which has been there for years and still has the largest concentration of the amazon-like ladyboys that have made this place famous. Every night you can find between 20 and 30 shemales in this place; bar fine is upwards of 700 baht and they have short time rooms on the 3rd floor for 300 baht for 2 hours. The bar itself opens at about 6:30 and goes until 3AM. An institution in Bangkok ladyboy circles and a must-see on everyone's trip agenda. It has suffered from a bad reputation in the past but recently seems to be more customer friendly. The music here is not so noisy either, at least compared to the other bars in Nana Plaza. Many regulars have found their 'comfort zone' in this family style bar even if they aren't attracted to the type of ladyboys which are more commonly featured there.
Website: casanova.ladyboy.bar

True Obsessions

First (ground) floor, Nana Plaza, rear right hand side. Probably the absolute epicenter of the ladyboy universe. This is a Nana Plaza institution and is the 2nd-longest ladyboy running bar right after Casanova. A 'must see' place. Every night as many as 70 girls come out on to the small stage and some are very very hot indeed. Lots of the girls in here are the petite kind, not the Amazon's you will see in Casanova or the taller girls that work in Charades. Actually, it's a very good mix of talent so there's something in there for everyone. It's very popular with the Japanese guys and they are very well like by the ladyboys due to their generous nature! There are plenty of the regulars there who have been around long but there are also many brand new young ladyboys who will absolutely take your breath away. (Get your hotel to check IDs if you are concerned with the age.)
Website: trueobsessions.ladyboy.bar

Temptations

2nd Floor, Nana Plaza, located next to the Fantasia bar. This bar opened in June of 2005 and has the same owners as Cockatoo. It is a long and skinny bar which has a bit of a tight feel to it. You will feel as though you are right in with the dancers! Made up of many new or previously free-lance girls so you don't find too many superstars here, not too say they are not hot! This place has been said to be a bit too aggressive as far as the girls are concerned. But just recently the talent here has been getting better and the atmosphere seems to be more friendly. There isn't usually more that 15 ladyboys on staff here at a time, so it is an economical place to ring the bell, since this can really turn up the party when the bar is slow or the night is early.
Website: temptations.ladyboy.bar

Mercury Bar

Second floor Nana at the back, this is Nana's newest ladyboy bar. It is not a really small bar but probably medium size. Seems like there could be 10-20 katoey at any given time and the quality of the ladyboyd is quite good. It is your standard gogo bar with an L shaped stage with quite a bit of seating around. There have been a couple of new ladyboy bars in Nana over the last \ couple years that disappeared quickly so hopefully this place last. I certainly looks promising.
Website: mercury.ladyboy.bar

Chili Bar

As you come into Nana Plaza there is large concrete stairs to the left. If you take these stairs you will find Chili Bar tucked under the next flight of stairs, right beside Rainbow 3 bar. Chili bar only opened around 2015 but has gotten a good following and has compiled a nice crop of ladyboys. They seem to have gathered quite a number of ladyboys previously seen a charades. Chili Bar is a good size with one big long stage where the ladyboys writh for you pleasure. The pressure here for girls to sit with you and to buy lady drinks is quite high in this place. It was a 700 baht bar fine the last time we were there.
Website: chili.ladyboy.bar

DC10 Bar

This very small ladyboy bar is on the second floor to the left as you come into Nana. As the name and logo imply the interior resembles an airliner. This is your classic gogo bar with a skinny stage down the middle and bench seats on either side. There is not as many ladyboys as some of the other bars but they do rotate in from one of the bigger bars owned by the same group.
Website: dc10.ladyboy.bar

Wild Nana

You do not have to go into a Nana Plaza ladyboy bar to find ladyboy action. There is plenty of ladyboys coming and going and just hanging around eating or trying to work the street. The police have really cracked down on the street workers in recent years The area in front of Nana Plaza was usually crowded with freelancers, most of which were ladyboys. This actions has be thinned down but there is still plenty to see out in the wild near the plaza. One prime spot to sit and watch the action is Big Dogs Pub. Get a rail seat here and you will be entertained for hours. There is only one entrance and exit to Nana Plaza and Big Dogs is right there you can see all the ladyboys coming and going and may be able to intercept some to avoid bar fines. You may also be able to get a freelancer as there is always a few good looking ones around. Plus you get to see all the action coming and going, ladyboys and customers and boyfriends dropping off their girlfriends to work in the gogo bars. There is also several other beer bars that you can sit and watch the action such as Stumble Inn and even Hooters across the street. Don't be surprised to see almost anything here, even elephants.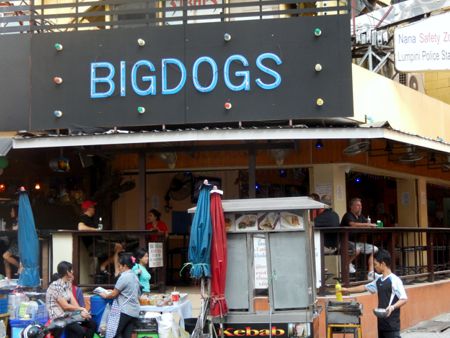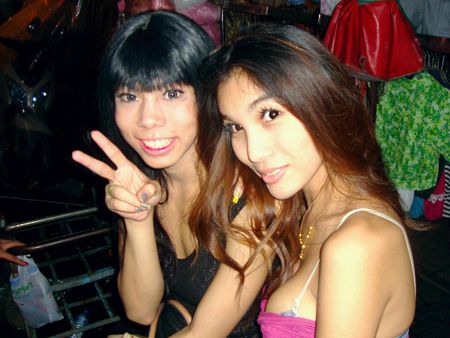 Check In Bar

Check in Bar is basically on the outskirts of the Nana area just off Sukhumvit on Soi 10. It is in quite a quiet location with a couple other bars and guest houses on either side. Previously Check In Bar was much closer to Nana Plaza on Soi 7 but they recently move to the new location due demolition of the building they occupied. This new bar is very large with two big rooms with a pool table in each, so if you are a shark this is your place. Usually there is around 20+ ladyboys on staff and they offer a great range of different types of girls. Many of the ladyboys are newbies or maybe not Nana quality but you can find some great sexy and fun ladies here while maybe saving a few bucks on drinks, bar fines and companionship. Plus the pub atmosphere can be a relief from the hustle and bustle of Nana. If you are tall the low ceilings and beams can really be an issue though so watch your head.
Website: check-in.ladyboy.bar

Chaos 9

Recently moved back to Nana area to a spot further down Sukhumvit Soi 4 beside the royal ivory hotel. It is a smaller place with a lounge atmosphere that opens around 6pm with some ladyboys arriving later.
Website: chaos9.ladyboy.bar

Nana Area Discos

There is a few discos in the Nana Area that allow ladyboys, however they are not permitted in many nightclubs in Bangkok. The most popular disco is Insanity disco on Soi 11. You will often see them handing out flyers for bands and events in front of Nana. Insanity is very popular with the Ladyboys from the bars and they will often bring their customers there. It is touted as the largest discoin Bangkok. Sometimes they will even ask you to bar fine them from the bars and then take them to the disco to party. However you can go to Insanity and find ladyboys nearly any night. Plus the place is alway full of many willing GG ladies. It is always a good idea to bring your passport to discos as some always require it, but usually only from ladyboys.
The other disco that we have been taken to by ladyboys is Juicy disco but we cannot remember where it is. Juicy does seem to be open nearly 24 hours or close to it. Not as fun as the others but always open. Nana disco used to be a place to go but it has recently become EQ Late Night Club Disco after being a couple other names since, they do allow ladyboys, it is across the street from Nana Plaza.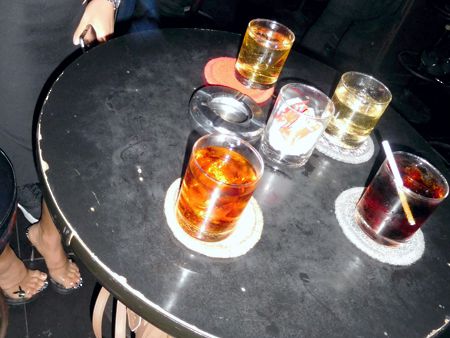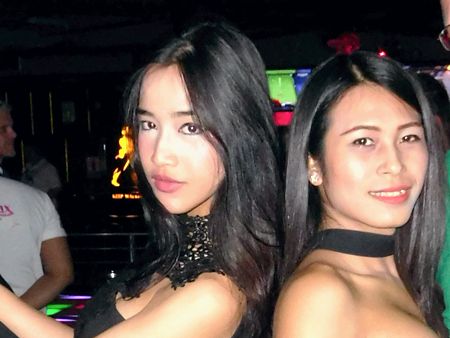 SOI COWBOY - ASOK AREA
Soi Cowboy is another "Red Light" area in Bangkok similar to the Nana Area that is one BTS stop south of Nana. It takes up a whole block right south of the Terminal 21 Shopping center, which is located right at the Asok BTS stop. There is not one large plaza like Nana, but there is a long walking type street lined with mostly girly bars. Soi Cowboy adopted Las Vegas style lighting years back to try and improve business and the them stuck. Now as you walk down Soi Cowboy you can admire the bright and flashing lights. Like Walking Street in Pattaya, scantily girls are out in the street trying to tempt you into their gogo bars with their wares and other special offers. There is only one ladyboy bar in Soi Cowboy called Cockatoo Bar but there some freelance ladyboys mingling and working in a few other bars. Just not a huge ladyoy scene here and tends to be a little more uptight and more police presence, possible due to the upscale nature of the neighbourhood.

Cockatoo Bar

This is the only dedicated ladyboy bar in Soi Cowboy. It is a very small skinny gogo but has some very hot ladyboys. It is located part way up on the left had side as you head south from Asok road. Cockatoo is owned by the same group as Temptations in Nana so you may find some overlap in the talent. This bar is a little out of the way and there is not many other ladyboys around but is it is good to visit if you are looking for a change of pace from Nana. They do have short time rooms on premises for your convenience.
Website: cockatoo.ladyboy.bar

Why Not Bar

A multi level ladyboy bar that is a little bit hidden on Soi 20, just off Sukhumvit on the other side from Soi Cowboy. This place is great with a bar on the first floor, pool table on the second floor and short time rooms above. They can usually have 15-20 ladyboys and things often get going around 7pm. This is a place you can really party, they have rowdy events many nights that extend often until the sun comes up. Being a pub style you an just hang out relax and get to know the many beauties, or take one for some private time. This is another place for the pool sharks as the boss loves to play, however the pool room is a little too small for your stick.
Website: whynot.ladyboy.bar





PATPONG AREA
Patpong is located in the Silom area and is bordered by the thoroughfare of Silom Avenue on one side. Silom is more of a business and diplomatic area than Nana, so as such the Patpong ditrict is a little more upscale also. Patpong has a night market on Patpong road which is also where you will find some lady and ladyboy bars. There is really only the one dedicated ladyboy bar which is King's Castle 3 with some other bars having post ops or token ladyboys. Patpong also contains the largest gay area of Bangkoks, so there is many gay massages, bars and clubs nearby. If you like crossdressers and femboys, you may have some luck in these gay establishments. There is also many businesses catering to Japanese businessmen and golfers, including some very good sushi. Unfortunately for average punters, the Japanese visitors are known to be extremely generous, so don't be surprised if you get ignored if a large group of Japanese business men show up. The red light component of Patpong is much smaller than it once was as there was some of the old bars and other establishments were taken down in a battle against immorality, some years ago.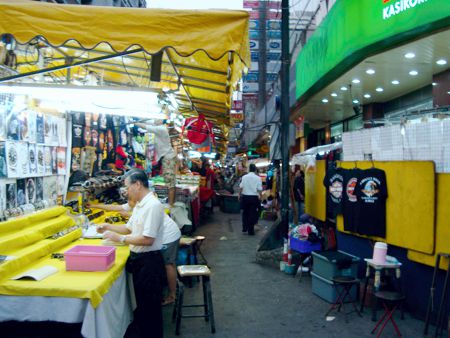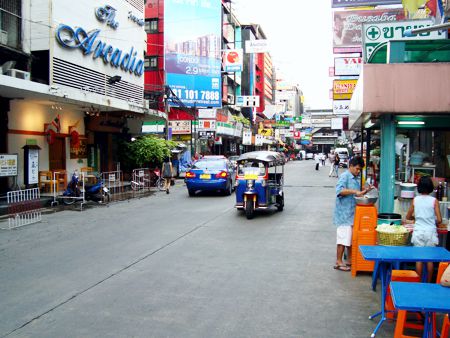 Kings Corner 2

Patpong road, left-hand side halfway up the road, coming from the Silom road entrance. This bar was previously called King's Castle 3 which was an institution in Bangkok for years. Between 30-40 ladyboys most nights in this wild place, this is the only true ladyboy bar in Patpong. Problem is that in this place you never know if your potential date has a dick or not. About half of the ladyboys in here are post-ops, and that has never changed since we have been going in there since 2001. Not exactly our number 1 choice for ladyboy bars in Bangkok as there is a bit of a hard sell and the music is at least 5 times louder than it should be,

Kings Corner

Also on Patpong Road, about a 10 o'clock direction from when you walk out of Kings Castle 3. Or, coming from the Surawong side it would be about 100 meters down on your left, at the little alley that leads over to Foodland. There is a little soi next to it, and a large sign out front. This place is 100% post-op mixed in with genetic ladies, about a 50/50 split, and a massive number of girls work in this place; we have seen over 50 at one time on their large stage. If you like ladyboys who are already post-operative, this is the place for you; make sure you ask if your potential date is a female or a post-op, and rest assured no one with a dick still attached will be working in this place. Some of the most beautiful people of any gender that you could ever see work in here.





Other places in Bangkok
Khaosan Road

For the young backpacker crowd this is headquarters in Bangkok. Khaosan Road is a large walking street not to far from the Grand Palace. There is the main street that also spills over many blocks in every direction. There is every type of establishment around her from lavish discos to hole in the wall pubs, restaurants, hostels and everything in between. While there is some girly bars, most of the places are geared towards the young party crowd. So you will see offers of cheap drink buckets and even laughing gas in your face everywhere, trying to get you inside their bars. The main street gets very busy as the night wears on and a part of the street called 'Central' gets very busy, almost a mosh pit. The Centerpoint Bar pumps music into the street and is usually packed, on the other side there is Lucky Bar which has become a ladyboy hangout. While you could find ladyboys all around Khaosan road, Lucky bar is the best spot to hang if you are looking, as some work there and others will show up eventually. Some ladyboys are working while others are on the prowl for young falangs. It is a younger crowd but everyone fits in here as long as you know how to party hardy!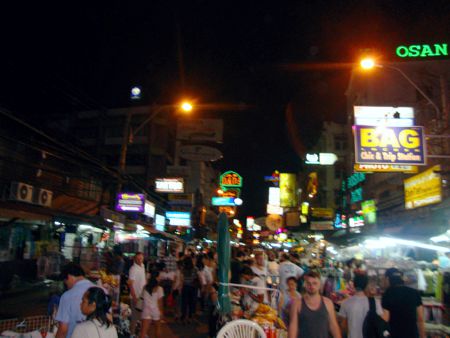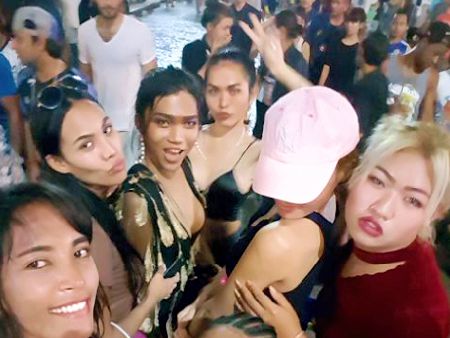 Ratchada Road

This is a large selection of dance bars, clubs and eating places on Soi 4 Ratchada road; ask any Taxi driver, just get in and say "Soi Cee Ratchada". You will be dropped at a huge mecca for Thai teenagers and early 20-somethings, about 99% Thai and very few westerners. Mostly ladies available here, but always some ladyboys mixed in, many of them Cabaret workers going out for fun after their shows. Beware many of these are post-ops, always ask if that is not your thing. Great place and very fun, even if you don't meet ladyboys here you will have a good time if you don't mind a young crowd. Thursdays through Saturday, 8PM till 3AM. This is a popular area for ladyboys to meet up for meal.


RCA - Royal City Avenue

The RCA is Bangkok's largest night life area and again is quite a young crowd. In this area you will find the city's hottest and largest discos and large crowds of young partiers. There will be younger ladyboys such as students and cabaret workers mixed in with the crowd, again they often will be post op. Older dudes might stick out in this area but you can try your luck.
Sukhumvit Road

This is a street where ladyboy hookers have sold their trade for years. However, in recent years there has been a crackdown on hooking on this street, and it is harder and harder to meet ladyboys there now. If you are looking for ladyboys on Sukhumvit, start walking up and down between about soi 5 and Asok road at about 10PM until about 3AM and you are bound to suspicion, they don't work in the bars sometime for good personal reasons but also could be because they were not allowed back in after doing something wrong.



Pattaya
Ladyboys are everywhere! Everywhere you look in Pattaya there are ladyboys. Hundreds of the girly bars have at least one or two and there are many great bars that specialize in them. At the top of the page we said that Bangkok was the easiest place to meet ladyboys. That's true but for sheer numbers Pattaya is 'Ground Zero' when it comes to more bang for your buck! Once you have mastered the geography of this extremely naughty city then the world is your oyster and there's a pearl on every street corner. And not only are there P4P workers after your holiday bonus checks... there are the malls and small businesses, the massage parlors and markets.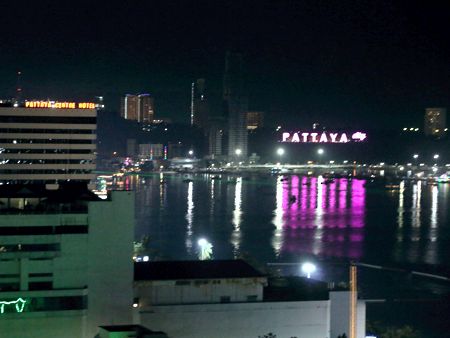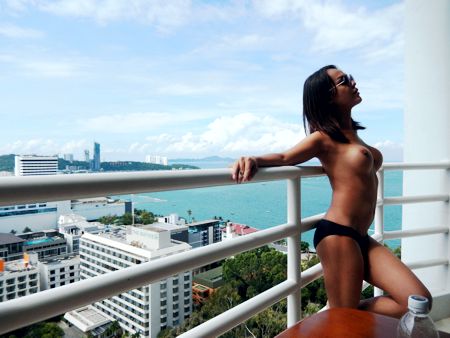 So whether you want nice or nasty, tall or short, fat or slim, femboy or Leather Barbarellas, then Pattaya is where to be. And add to that the prices then you'll be marching home with more money than you came with! Pattaya is also a lot less business minded too and a lot more fun than Bangkok. So... where should you go? Well, you'll be tripping over them everywhere but here are a few places that we recommend...
Walking Street

Every night around 6pm a portion of Beach Road closes down and turns into Walking Street. This is the center of night life in Pattaya. Walking street is loaded with discos, gogo bars and restaurants all vying for you attention. Walking street is also usually packed with people all night. There isn't many ladyboy bars there anymore except Katoeys R Us Bar down one side street. There used to be many freelance ladyboys up and down the street at night but police have cracked down on the number of hookers working Walking Street. You will still find a group of ladyboys that works across from Freelancer Bar and in front of Hot Tuna Bar, however there is not the selection there onces was. Picking up ladyboys off the street has become a little bit more dangerous in Pattaya as authorities are trying to keep it in the bars. You can always find many ladies and ladyboys strolling the street and almost all can be available.

La Bamba Bar

This is easily the friendliest bar for ladyboy lovers. About 15 ladyboys are out on soi 13/1 every night flaunting their stuff and making you feel welcome. They specifically have a rule that no ladyboy will come inside the bar and bother you unless you ask them too. So this place is also low pressure, however they only have bar stools and took out all their comfortable couches. This bar came about a couple of years ago as a result of a bar across the street running into difficulty with their strange and charismatic owner. Now it's a cheap and friendly place to meet like minded friends or look for some ladyboy company.
Website: labamba.ladyboy.bar

Katoey's Are Us

Every night about 30 or more scantily clad ladyboy babes revolve and rotate the poles in this good sized bar just off walking street on Soi Diamond. Just look for Club Diamond and head down that side street, it is pretty hard to miss right past the revolving bars. Lots of room, lots of ladyboys and good music. This place is fun and is really the only ladyboy bar in the Walking Street area!
Website: katoeysareus.ladyboy.bar

VIP Bar

For you night owls and hard core LB admirers then take a walk down to the new VIP Bar located on Soi 13-2. It is right beside the previous location of Lita Bar. We actually discovered it while looking for Lita bar which has closed. This bar is high end with a nice pool table and premium spirits and cocktails. It appears to be a freelance ladyboy bar with ladyboys coming in and out.
Website: vip.ladyboy.bar

Sensations Bar

This is one of the more famous bars in Thailand due the owner Scott and his Ladyboy wife Paeng. They were once featured on a cable documentary about ladyboy relationships. Sensations has now moved back to Action Street, near their original location and is now an outdoor bar again. They will normally have up to 20 nice looking ladyboys and often other freelancers show up to party too. A real nice place to hang out.
Website: sensations.ladyboy.bar

Baby Boom Bar

This is a very small gogo bar down and alley just south of Soi Buakhao. It is small but there is a shower for the ladyboys and it is quite the raunchy place. Doesn't take much to fill this place up! It is a little out of the way but there is a few gems to be found here. Seems to have a steady clientel also.

Pook Bar

Very friendly bar on soi 6 is opened from lunchtime and all day. The downstairs is for the ladyboys and upstairs features the regular girlies. Good daytime meeting place and well priced drinks. Another bar which takes customer service a bit more seriously and well worth an afternoon of drinking and ogling! It's also a great place to perch if you want to get a good view of the crazy antics of the Soi 6 crowd. Most of Soi 6 opens early!

69 Bar

69 Bar is an open air beer bar on Soi "Made in Thailand" and is right beside the Pattaya Night Bazaar. The number of ladyboys varies but it there usually seems to be more later on at night. Seems like many that are not otherwise engaged will make there way here to hang out and work. This also seems to be the central location for local bar pool tournaments which happen weekly. Spike and his staff make for an interesting experience.
Website: 69.ladyboy.bar

New Bar

This is a fresh New Ladboy Beer Bar on Soi "Made in Thailand". This bar is run by Ladyboy New and her friend Bom. There is many attractive Katoey here and they all love to have fun with you drinking and playing pool. New Bar is in a small complex with a few other beer bars so if you need some ladies to complement your ladyboys, there is options right there.
Website: new.ladyboy.bar

Hunny Bunny Bar

This is a newer bar north of Soi Buakhao. One of the newest bars in Pattaya and we didn't quite get any pictures yet. This place seems to have a high number of quality ladyboys on staff. This is an up and coming bar in Pattaya.
Kings Bar and Guesthouse

King's Bar is a long time favorite on Soi 8 which usually has a selection of ladies and ladyboys. At one point it was about 80% pre-op ladyboys but a recent shake up has seen the number of ladyboys here drop to about 40%.
Website: kings.ladyboy.bar

Soi 7 & 8 Bars

In general Soi 7 & 8 offer a great inexpensive place to party with lots of ladies and ladyboys. These Sois are known for great restaurants and beer bars with very cheap drinks. Some places offer Chang beer 24 hours a day for 40 baht. Also many reasonably priced hotels are on these streets but many are not more than 2 or 3 stars, yet very functional and right in the center of the party. If you value your sleep, there is probably better places to stay because the party doesn't stop around here. The bars here are packed with ladies and most bars will have a ladyboy or two, so there is lots of opportunity to shop around. This area is fun and cheap but can also be a little rough, so watch your assets.

Issan Pub

The Issan Pub is up of Pattaya 3rd road and is not very close to any other bars. This is a dance club that is primarily gay and the theme is Issan music and dancing. They have a very good in house Issan band that include some drugged out ladyboy dancers. This is a favourite place for Ladyboys from the country to go because it reminds them of home. This place is open very late and it does not get busy until at least midnight so don't go earlier than this unless you want to get a good table. This is often where the ladyboys go to troll for Thai men. Any ladyboy from Buriram can tell you exactly where it is, or just hop on a motor bike taxi.

TJ's Music Bar - Naklua

TJ's is fun bar over on Soi 18 in Naklua which is the next beach over from Pattaya. It is not hard to get over there by baht bus or motor bike but it is a few kilometers from the usual main drag of Pattaya. TJ's is surrounded by fairly upscale resorts and doesn't reall attract your normal bar crowd, many married tourists. There is ladyboys and ladys on staff her and it is a karaoke club and restaurant as well. Nice comfortable place to hang out and usually some nice looking ladyboys on staff, great food too.
Website: tjs.ladyboy.bar

Roadhouse Beer Bar - Jomtien

Previously Sally's is a long time tradition around Jomtien beach and has a number of ladyboys. Saves a trip into Pattaya for ladyboys if you are staying out here, and this place is lots of fun.
Katty Bar and Guesthouse - Jomtien

Katty's is a new bar over at Jomtien beach around Soi 4 and run by a couple ladyboys. It is not a big place but fun if not out of the way. Another great option for those staying over in Jomtien.
Other Places to meet Ladyboys Around Pattaya
Beach road

Anytime after 10PM will guarantee you the chance to meet ladyboys. And you'll probably be pickpocketed also and generally feel pretty nasty about the place. We would not vouch for the quality of these girls, and remember it is pretty dark down there. But if you are desperately short of cash, blind and desperate then Beach Road is for you! It has also been known to be dangerous down here and the police make frequent sweeps now. Not to mention the police station is right across the street. Our advice; find somewhere else in Pattaya to meet ladyboys!
Sunee Plaza - Boyztown

It's behind the VC hotel on Pattaya 2; Pretty much hit and miss really. This is a famous gay area and most of these bars are for gay boys, but some of the bars in here have some cute femboys working in them also. Many young Katoey start working in these bars. Check ID cards on these little minxes to avoid problems. Some bars have ladyboys depending on the night, and if they have shows. Best to stick your head in any bars to see what is going on before comitting to stay. The gay discos are a good option to meet ladyboys later on as they play good music and stay open very late. Often they may come to party here after work.
Tiffany Cabaret

The largest and best cabaret in Pattaya and home to some of the most lovely ladyboys in Thailand. The Miss Tiffany is a hit nationwide every year and features the cutest ladyboys in Thailand on the Tiffany stage. This place is on the 2nd road in Pattaya and is worth seeing their high-quality show at least once; but meeting with these girls is sometimes hit-or-miss. Like many cabaret girls, these girls are not very good with english and may appear stand-offish at times. But be friendly and cordial and don't just talk about sex and you may have a chance to take home one of these cutie's.
Alcazar

Similar to the Tiffany Show above, this is another large show in Pattaya also on 2nd Road which features beautiful ladyboys from all over Thailand. Basically, whatever you see above for Tiffany applies here; If you like Cabaret shows this should be another one on your agenda. Same deal with the ladyboys also; you can take photos and chat up a few and maybe get lucky!





Phuket
Phuket (or Shemale Island) is another option for serious ladyboy lovers. If the city of Bangkok is too busy and smoggy or you want clean beaches that Pattaya can't offer then there is Phuket. It is also a great place to bring your ladyboy for a romantic beach holiday or you can just find one when you get there. Hang out at Patong beach or take a Tuk Tuk Van with stereo for a rip around the island. There is ladyboys everywhere you go.

Patong Beach
Patong Beach is the main Tourist town on Phuket and there is lots of hotels, restaurants and shopping. The beach itself is very nice but can get quite busy. Of course the main attraction for partiers is Bangla Road. Unfortunately 'Coctails and Dreams' the last dedicated ladyboy bar on the island closed in 2017 suddenly. Over the years this bar was a gold mine of ladyboys, it will be missed.

Soi Bangla - Walking Street

The hub of all the action on the island of Phuket and the place you want to be in this wonderful island. Begin on Soi Bangla, which is the main strip that divides this beach resort down the center. There are always freelancers on this street between about 9PM and 2AM and you don't even have to look... they will find you! This street is extremely busy with many bars and clubs and buskers.

A bit further up Soi Bangla from the beach is the Tiger Disco complex, also on your left-hand side. There is not dedicated ladyboy bars on Bangla but a good many of the bars will have one or a few on staff.

My Bar 3

This is now the only dedicated ladyboy bar in Phuket. It is located behind the Jungle Ceylon Shopping Mall
Head down Soi Bankgok to Ratuthit Road and then take a small jog in the road to the right onto Soi Sansabai. You can then find the bar by heading down Sansabai Soi 1 or Sansabai Soi 2. There is Ladyboy Cabaret shows nightly. Website: mybar3.ladyboy.bar

Tootsie Ladyboy Massage

If you head down Rat-U-Thit Road about 1km you will find Tootsies Ladyboy Massage. This is a great place if you want some relaxing time alone with a ladyboy. There is usually 6-8 ladyboys on staff at any given time. They are well trained in massage and will also offer a relaxing bath before they start. They are open from around 9am to 9pm so the ladyboys can be availble for dates later. It is off on a side street but there is big signs out on the main road.
Tootsie Corner

Right across the street from the Tootsie Massage location is a small satellite bar called Tootsie's corner. This small beer bar is staffed by ladyboys from the massage and they serve drinks her while waiting for massage customers. It acts almost as a waiting room and an attraction to pull in more customers. You can relax with a drink, go for a massage and come back to drink more. Ladyboys are often rotating here.
Simon Cabaret

On the road that leads towards Karon and Kata beaches but only about 2 miles from Soi Bangla is the Simon Cabaret. Without a doubt some of the most beautiful ladyboys in all of Thailand work here. This one is very popular with the tourists and employs about 40 beautiful ladyboys and post-op's. Go there and watch the show and then chat up the girls outside maybe you can get their Line.
Royal Paradise Complex

This complex of hotels and bars and cabarets is the main gay area of Patong, but that doesn't mean you can not get laid here. On any given night there are dozens of ladyboys about the grounds here, and indeed many of the ladyboys on Phuket live right inside here. Several of the clubs here have ladyboy shows and many femboys and fresh katoey can be found.
Patong Beach Road

This name speaks for itself and is obviously easy to find. Only one problem; many of the girls that work here have been banished from the Soi Bangla bars and are working here because they have no where else to go. Not ALL the girls of course, but some. With that said, you CAN find cute ladyboys on the beach road for sure. They hang around on both sides of the street between the KFC and Bangla between about 11PM and 3AM. Good prices down here; just be careful for your wallet.
Kata Beach
Kata Beach is about a 20 minute drive from Patong and is next beach after Karon Beach. This beach is large but more secluded and not as busy as Patong Beach plus there is many nice resorts around here, including Club Med. There is a decent size village and a strip of beer bars and clubs with a smattering of ladyboys when busy. At the end just off that alley is a large bar called 'New Wave Bar'. This place has many nice looking ladyboys working there. It is still possible to find hot katoey even away from the main drag in Patong and avoid the crowds somewhat.
Other places in Thailand
Chiang Mai
Chiang Mai produces some very beautiful ladyboys in but but they are harder to meet in this city. This may be Thailand's second largest city but it is no where near as big or crazy as Bangkok but it is good for a getaway from the hustle and bustle. There are no dedicated go-go bars or places to specifically meet ladyboys. Many of the lady bars in town do have ladyboys there also. So you may have to keep your eyes open more in your quest. There is the Chiang Mai Cabaret at the Anusarn market nightly and you may be able to meet some cuties here. www.chiangmaicabaret.com
There is a thriving ladyboy scene in the university crowd here, but it seems you would have to get out to the clubs and discos that those kids frequent. Probably only feasible if you are younger.
Of course local nightclubs and karaokes will attract ladyboys and often in groups. There is also supposed to be many ladyboys down on Tapar road working.
Koh Samui
From what we have seen Chewang Beach is the place to be. This area has a couple bars and cabarets where you can meet ladyboys. After midnight in Chewang at the Soi Mango strip of beer bars and discos, But all-in-all if you want to have abeach vacation combined with great nightlife, we would recommend that you stick with Phuket. Samui is getting busier since they put in the internation airport a number of years ago. This may improve the nightlife but has detracted somewhat from the beautiful quiet beaches and scenery.
Koh Chang
Koh Chang is highly recommended if you want a place with quieter beaches and without the crowds of Phuket and elsewhere. It is just a little harder to get to but well worth it if you like the island life and they have some ladyboys too, but also a great place to bring your own ladyboy for a romantic getaway because it is very cheap to get a beach front room here. The majority of ladyboys in Koh Chang are going to be in the main village of White Sand Beach as well as the majority of the action. There is a bar complex across from the Chang Buri Resort called 'Little Pattaya' and it has about 15-20 bars with as many as 10 ladyboys between them. The Tiki Bar on the beach is always busy and you can often find ladyboys there to eat and watch the fire show. Also if you head out to Lonely Beach, it is a real party place full of young back packers. Ladyboys will often attend the many parties or hang out the clubs there to meet young men.